Printing schedules
To print a schedule and its to-do list, simply click on the button with the printer icon on it.
Alternatively, you can: 1 Click anywhere in the schedule window to make it the main window. 2 Choose Print... from the main menu or press Command-p.
The Print Panel will be displayed and the selected schedule will be printed. If the schedule's to-do list is not empty, it will also be printed.
To choose a different size or orientation of paper, before you click on the printer icon or choose the Print... command, use the Page Layout panel. You can open the panel by holding down the Alternate key while clicking on the printer button, or you can select it from the menu by either typing Command-P or by doing it the hard way: 1 Choose Format from the main menu. 2 Choose Page Layout... from the Format menu.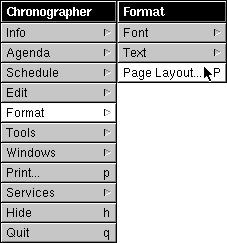 The settings you select will be remembered and used for later printouts. Each type of schedule has its own settings which are remembered separately from the other schedules, so you can, for instance, use portrait orientation for day schedules and landscape orientation for week schedules.
To control which components are printed, the page layout panel includes extra controls for selecting the to-do list, schedule, or both for printing. It also includes an option for printing empty to-do lists when both components are selected for printing. Normally, only the schedule is printed when its to-do list is empty.
Only schedule windows, the Tasks window, and the mission statement can be printed. The Roles & Goals window cannot be printed.